Waifu Solitaire - Lewd Edition
A downloadable game for Windows
It's single draw klondike solitaire featuring lewd pictures of you're waifu! Just input you're waifu's name into the console and lewd images will be downloaded from gelbooru in the background and loaded into the game while you play.
Don't have a waifu and/or don't care about the dynamic image loading feature? Using nowaifu doesn't find any images (at the time of release anyway) so you can just play with the tastefully lewd generic card.
If images don't start downloading but the console doesn't say it couldn't find any, something in the networking code probably got stuck and you might need to restart the program. Sorry about that.
It should go without saying that since this features adult material, it's clearly NSFW, I don't own the images pulled from the internet, and I'm not responsible for any degenerate acts you're waifu might be shown participating in.
Have fun!

Install instructions
Unpack the zip and run waifu_solitaire.exe.

Comments
Log in with your itch.io account to leave a comment.
Something's definitely wrong on the back end. What error are you getting?

I'm not getting any kind of error. It just doesn't download stuff at all. Here's a screenshot to show you what I mean: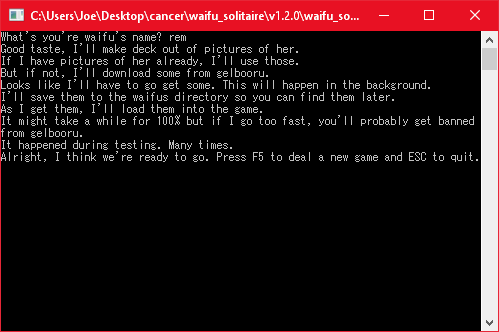 Oh that's even worse. I'll see what I can do but I'm hoping fixing the other issues will fix whatever this is.

idk what happened, but it doesn't seem to be downloading the pictures at all.
Interesting. Does this only happen with "Haruka (pokemon)" or have you seen it fail the same way with other names as well? Either way, I'll try to see what's going in this weekend. Thanks for bringing this to my attention.

yeah it happens with all of the names i've tried before. I tried using "rem" a few times as a sort of test name while trying to find what was wrong myself. Sadly i'm no good at programming yet. Hope this helps :)
It might be nice to have the image downloader prioritize solo or 1girl tags, so you don't end up with a deck of group shots.